A couple of years ago when I searched for silica gel as a retail, average man in the street type, product I drew a blank. The situation is now changed with Jessop offering packs of 2x25gm sachets which are fine for camera bags.
Having a number of Lowepro lens cases of differing sizes I now searched out some smaller size sachets and turned up packs of 3x10gm sachets by Hama from CPC with whom I have kept an account open with since being involved in computer repairs awhile back.
Snag with this Hama product is that the blister packs enclosing the sachets are backed by a slide in card and thus not hermetically sealed. I ordered quite a number of these packs so am a bit miffed that the sachets are clearly not ready for use as supplied. I have contacted Hama by email, and I know the email was opened and on who's account, but as yet had no reply.
I was also pondering, and asked about in my email, the nature of the darker beads seen in the sachet as shown in this picture: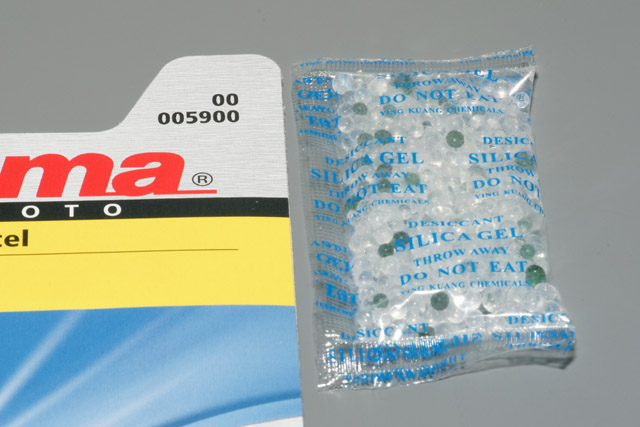 Now in another life whilst engaged in repair of Phantom and other RN aircraft I was familiar with, large, bags of silica gel that we used to pop into an inner pouch attached to the side of aircraft engine MVP (moisture vapour proof) bags for storage and transportation. This silica gel used a dye which changed colour when drying was required with a regular inspection through a transparent window to check on this condition.
I wonder if there is such a silica gel - with indicator dye - generally available?
As an aside, on a large aircraft carrier such as Ark Royal (a real carrier with catapults and arrestor wires) there was a small electrically heated oven ostensibly used for heat treating metals for forming which was also used to dry out the silica gel. In practice, because the ovens were rather small, only rivets were heat treated before use the ovens otherwise being used to heat up the air engineering workshop staff's pasties.
Being winter now and SWMBO (she who must be obeyed) feeling the chill the gas fire in the lounge is often on and this has an ideal top for laying out silica gel sachets for drying, but in the summer drying silica gel will be an energy inefficient job.