System Windows XP SP3 + all later updates. Screen resolution 1600 x 1200 32 bit. Protected by up to date Kaspersky IS software.
Default printer a new Epson R2880 with the latest driver, being only recently set-up and working as expected from a laptop using Elements 6.
I have made a default setting to ensure that suitable colour space settings are loaded in the printer driver by default through the Printers and Faxes > Epson Stylus Photo R2880 (control dialogue) as in image R2880PropSysDef.jpg
The following issue only occurs in the Editor (so far at least) and not with printing selected through the Print option in the Organizer.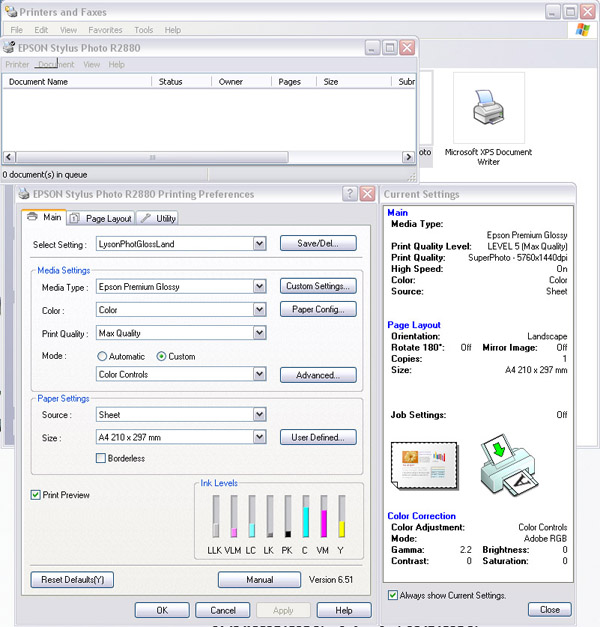 Only Photoshop Elements 8 misbehaves in the following described manner (PE6, Lightroom 2 and Paintshop Pro and Xara Xtreme do not mess with the above default settings but allow adjustments to be made and to be retained until explicitly changed or application restart as one would expect.
Photoshop Elements 8 can sometimes allow the above default to display and stick for printing and allow adjustments to be mad and stick. But then for reasons I have not been able to establish, and I have tried many things in an attempt to find a trigger (I have been used to troubleshooting systems by changing one procedure at a time so as to isolate a fault throughout life with e.g. computers and aviation systems) PE 8 decides to modify the driver settings as in image R2880PropWrong.jpg: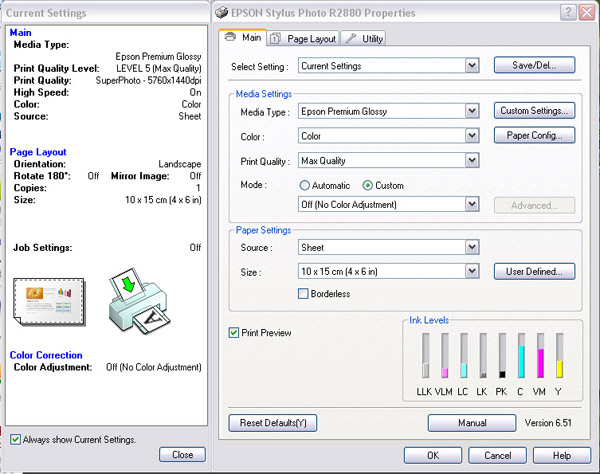 Note the Off [No Color Adjustment] indicated in the lower right corner of the Current Settings panel. When this becomes the case no attempt to restore correct settings once in the Print dialogue via either Page Setup or More Options > Color Management > Printer Preferences will be successful for the Off [No Color Adjustment] stage is reverted to as one closes the final dialogue on return to the Print dialogue.
For example with the Page Setup route with which one sees as in image PageSetUp.jpg any settings made whilst within the Printer driver Printing Preferences are held until one finally exits by clicking OK on the larger Page Setup dialogue (the one with Paper, Orientation and Margins selections).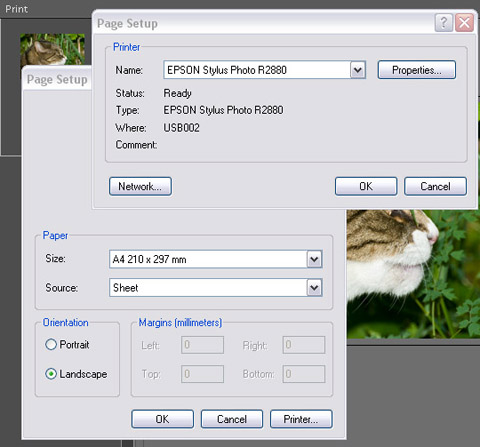 Sometimes PE8 seems to behave and the next moment nothing can make it retain required colour settings. I have tried recreating a new Adobe Photoshop Elements 8 Prefs.psp file several times but this to no good effect.
It has to be Photoshop Elements 8 Editor stomping over even the default printer driver settings.
To be honest I feel like installing another copy of PE6 (installed on a laptop and which gives no trouble). I am ware that the license does not allow two copies of one to be run simultaneously but that is the only way I am going to be able to compare notes between the systems to see if it is PE8 only at fault. If PE6 has no trouble on the desktop I feel that you owe me the right to run two copies simultaneously and that I have paid for the right to use PE8 which is not fit for my purpose.
Otherwise I deactivate PE8 and uninstall it and re-install PE3 which also printed without issues.
EDIT:
PS. Yes I have been following the Adobe support pages but to no avail. I have tried without other applications running and carried out system houskeeping tasks e.g. blowing away temporary files.