Another couple of shots, the first a Buccaneer about to catch a wire.
Shot with an SRT101 with Tamron 135 on Agfa CT-18. This really how the colours are in Arctic light. This was taken during NATO Exercise Northern Wedding in October 1970. I had very few pieces of glass at this time just the one camera with its standard f1.7 Rokkor 55mm and the Tamron. I had to wait for our exit from the Med' at the end of the year when we called in a Gib. I arranged a money transfer from my UK account to a bank in Gib so that I could go camera shopping, money transfers were also a different ball game in those days. Picked up another SRT101 with f1.4 Rokkor 57mm, a 28mm Rokkor f3.5 and a Polarising filter for the 57mm Rokkor all for about half the cost of that first SRT101 purchased in UK.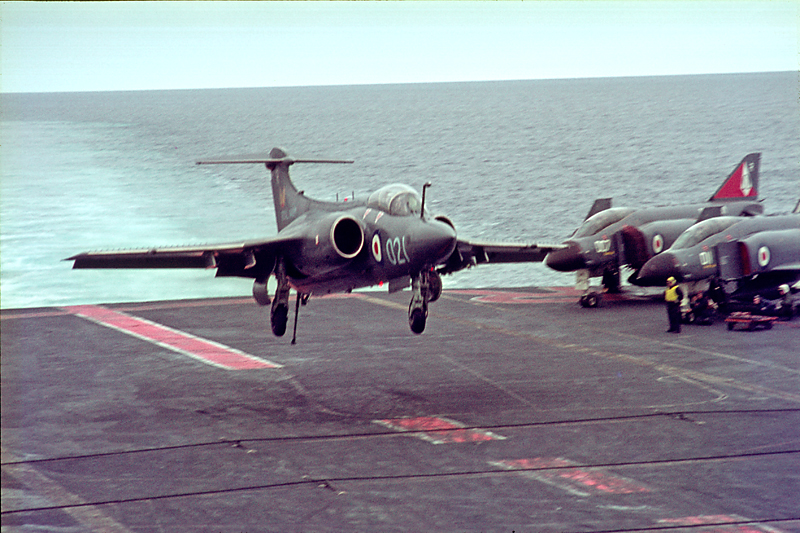 As a Phantom engineer I would often be sitting in a Phantom test running engines where those two at right can be seen in the above shot. If carrying out full power or after-burner tests the 'Island' would request that we throttle back to idle until the recovery was complete. Later, it was deemed to hazardous to have people in that area during recovery operations. It was quite something to be sat out there in a Phantom and have other Phantoms and Buccaneers flash past the nose as they came aboard.
The next shot is of an Phantom leaving the waist catapult of the Ark, Rokkor 28mm f3.5.
This was taken from the cable deck up in the bows through one of the side apertures in that area. Those who have seen pictures of British aircraft carriers of the period will have noticed these apertures in the for'ard hull. The cable deck was very much a working deck and often out of bounds to those not charged to work there, also it could often be awash as the carrier dipped its nose.
Being not along for the cruise, I had one opportunity to visit this deck to get shots. At this time I knew that a detail of two Phantoms were planned for launching so I set about trying to get shots with a touch of motion blur. For the first I settled on a shutter speed of 1/30th with the second planned for 1/60th (with a future plan to visit again for a 1/125th shot). Unfortunately the second Phantom went U/S (unserviceable) after start-up and so never launched and I never did get another opportunity.
As it was, I had to listen very carefully for the engine noise, and using the previous launch of a Buccaneer as a timing gauge I had to judge at what moment the aircraft would appear, shoot and hope.